Alana De La Garza is coming back into the Law & Order universe!
(click the link for the short news story)
EDIT: Here's a picture of the tweet from WolfFilms: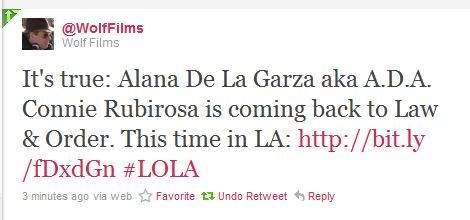 According to this, she'll still be playing our beloved Connie Rubirosa! I'm kind of excited about all the cast changes going on at L&O:LA since it needed LOTS of improvement. Here's hoping Connie will kick start the show!
Not sure how they're going to explain her move from the New York to Los Angeles, but we'll see when the show finally comes back.
I'M JUST SO HAPPY THAT ALANA WILL BE ON OUR TV SCREENS AGAIN.
*Flail*
*happy dance*
And um...since it's the nature of the comm, how will this effect her relationship with Mike? Can they have Mike come with her (or at least go on vacation to LA for an episode)? I'll even take an insinuated phone call. *ahem* Long-distance relationship fic anyone?
Current Mood:
excited